Hemorrhagic angiomatous meningioma: what we know. Case report and review of the literature
Palavras-chave:
Angiomatous meningioma, Spontaneous hemorrhage, Neurosurgery, Intracranial tumor
Resumo
Meningiomas are the most common benign intracranial tumors and rarely present with spontaneous bleeding. We report on a case of hemorrhagic angiomatous meningioma that was treated surgically (the first case described in Brazil) and present a review of the literature. The patient was
a 38-year-old female with progressive headache and vomiting. She also had a previous history of
chronic headaches and refractory depression. Imaging studies showed a large left frontal extra-axial
tumor, with intense contrast enhancement and hyperperfusion/hypervascularization. There was an
extensive intratumoral and pericapsular hemorrhagic region, with dilation of the middle meningeal
arteries and falx cerebri vessels. The lesion was compatible with hemorrhagic meningioma. The
patient underwent bifrontal craniotomy and tumor devascularization, followed by total resection.
Histopathological and immunohistochemical analyses led us to conclude that this was a case of angiomatous meningioma. Subsequently, the patient's headaches and depression improved. No
residual or recurrent neoplastic lesion was observed during the follow-up.
Downloads
Não há dados estatísticos.
Referências
Kin JH, Gwak HS, Hong EK, Bang CW, Lee SH, Yoo H (2015) A Case of Benign Meningioma Presented with Subdural Hemorrhage. Brain Tumor Res Treat 3(1):30-3.
Aloraidi A, Abbas M, Fallatah B, Alkhaibary A, Ahmed ME, Alassiri AH (2019) Meningioma Presenting with Spontaneous Subdural Hematoma: A Report of Two Cases and Literature Review, World Neurosurg 127:150-154.
Mawrin C, Perry A (2010) Pathological classification and molecular genetics of meningiomas. J Neurooncol 99:379–391.
Liu Z, Wang C, Wang H, Wang Y, Li JY, Liu Y (2013) Clinical characteristics and treatment of angiomatous meningiomas: a report of 27 cases. Int J Clin Exp Pathol 6 (4): 695-702.
Kiat SS, Adzman KAB, Msurg, Hieng AWS, FRACS (2019) Large falcine meningioma presented as treatment-resistant depression: A case report. Med Malaysia 74 (1): 87-9.
Wang HC, Wang BD, Chen MS, Li SW, Chen H, Xu W, Zhang JM (2016) An Underlying Pathological Mechanism of Meningiomas with Intratumoral Hemorrhage: Undifferentiated Microvessels. World Neurosurg 94: 319-27.
Modesti LM, Binet EF, Collins GH. (1976) Meningiomas causing spontaneous intracranial hematomas. J. Neurosurg 45: 437-41.
Hasselblatt M, Nolte KW, Paulus W (2004) Angiomatous Meningioma: A Clinicopathologic Study of 38 Cases. Am J Surg Pathol 28 (3): 390-3.
Nsir AB, Chabaane M, Krifa H, Jeme H, Hattab N (2010) Intracranial angiomatous meningiomas: A 15-year, multicenter study. Clinical Neurology and Neurosurg 149: 111-7.
Hua l, Luan S, Li H, Zhu H, Tang H, Liu H, Chen X, Bozinov O, Xie Q, Gong Y (2017) Angiomatous Meningiomas Have a Very Benign Outcome Despite Frequent Peritumoral Edema at Onset. World Neurosurg 108: 465-73.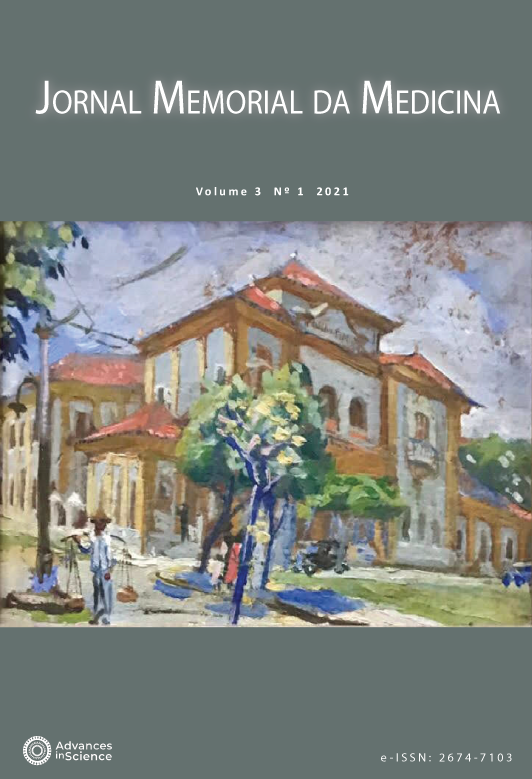 Como Citar
Oliveira e Silva, M. P., Oliveira e Silva, V. P. ., Silva, A. V. T. da ., Lima, G. C. N. ., & Kitamura, M. A. P. . (2021). Hemorrhagic angiomatous meningioma: what we know. Case report and review of the literature. Jornal Memorial Da Medicina, 3(1), 18–22. https://doi.org/10.37085/jmmv3.n1.2021.pp.18-22
Licença
Os direitos autorais para artigos publicados no Jornal Memorial da Medicina são do autor, com direitos de primeira publicação para a revista. Em virtude de aparecerem nesta revista de acesso público, os artigos são de uso gratuito, com atribuições próprias, em aplicações educacionais e não comerciais. O Jornal Memorial da Medcina permitirá o uso dos trabalhos publicados para fins não comerciais, incluindo direito de enviar o trabalho para bases de dados de acesso público. Os artigos publicados são de total e exclusiva responsabilidade dos autores. Há encargos para submissão no processamento de artigos (Articles Processing Charge - APC).