Pott's Puffy Tumor - Overview of case series
Palavras-chave:
Osteomyelitis, sinusitis, Pott puffy tumor, Pott's puffy tumor
Resumo
Pott's puffy tumor (PPT) is rare and usually seen as a complication of frontal sinusitis that has been neglected or partially treated, resulting in subperiosteal abscess of the frontal bone with underlying osteomyelitis, which can lead to life-threatening intracranial complications, such as epidural/subdural empyema, cerebral abscess and meningitis. Given this, the purpose of the present study was to gather the most diverse cases reported together to highlight the main treatment methods. Methods: It is a narrative review, starting from the search in the database PubMed, Lilacs and Scielo from 2010 to 2020, which resulted in 34 scientific articles. The search focused on obtaining data on new approaches and treatments established for Pott's puffy tumor. Results: 34 articles were included which described 58 patients with a swollen Pott tumor, occurring predominantly in male adolescents, with streptococci (26,1%) as the main etiologic agent. Approximately 84% of all patients were male subjects. The most prevalent intracranial complication was an epidural or extradural abscess (84,2%). Regarding PTT therapy, all patients received antibiotic therapy (ATB), and the main empirical antimicrobial scheme used was cephalosporin third generation, with vancomycin and metronidazole. In most cases, surgery was performed using several techniques, mainly an external surgical approach, external drainage (ED) of the subperiosteal abscess associated with endoscopic sinus surgery (ESS). In general, the prognosis is favorable, even if neurological symptoms are present at admission. Conclusion: Based on available literature, PPT is a profoundly serious complication, which can be easily avoided if treated with the ATB, ED and ESS triad immediately, and, if necessary, craniotomy.
Downloads
Não há dados estatísticos.
Referências
Salomão JF, Cervante TP, Bellas AR, Boechat MC, Pone SM, Pone MV and De APB. Neurosurgical implications of Pott's puffy tumor in children and adolescents. Childs Nerv Syst 2014;30(9):1527-1534 Doi:10.1007/s00381-014-2480-x
Avcu G, Belet N, Kurnaz SC, Karli A and Sensoy G. Pott's puffy tumor in a 12-year-old boy. Pediatr Int 2015;57(1):163-165 Doi:10.1111/ped.12440
Sharma P, Sharma S, Gupta N, Kochar P and Kumar Y. Pott puffy tumor. Proc (Bayl Univ Med Cent) 2017;30(2):179-181 Doi:10.1080/08998280.2017.11929575
Aínsa Laguna D, Pons Morales S, Muñoz Tormo-Figueres A, Vega Senra MI and Otero Reigada MC. [Pott's puffy tumor: a rare complication of frontal sinusitis]. An Pediatr (Barc) 2014;80(5):317-320 Doi:10.1016/j.anpedi.2013.06.001
Olmaz B, Cingoz M, Akdogan E and Kandemirli SG. Correlation of imaging and intraoperative findings in Pott's puffy tumour. Scott Med J 2019;64(1):25-29 Doi:10.1177/0036933018803787
Sekine R, Omura K, Ishida K and Tanaka Y. Recurrent Pott's Puffy Tumor Treated With Anterior Skull Base Resection With Reconstruction of the Anterolateral Thigh Flap. J Craniofac Surg 2019;30(1):e94-e96 Doi:10.1097/scs.0000000000005100
Simonin A, Passaplan C, Rusconi A, Colin V, Erard V, Stauffer E, . . . Otten P. Pott's puffy tumor presenting as a frontal swelling under a Swiss army helmet. Clin Neurol Neurosurg 2018;173(115-117 Doi:10.1016/j.clineuro.2018.06.034
Perić A, Milojević M and Ivetić D. A Pott's Puffy Tumor Associated with Epidural - Cutaneous Fistula and Epidural Abscess: Case Report. Balkan Med J 2017;34(3):284-287 Doi:10.4274/balkanmedj.2016.1304
Sabatiello M, Vanhooteghem O, Mostinckx S and De La Brassinne M. The Pott's puffy tumor: an unusual complication of frontal sinusitis, methods for its detection. Pediatr Dermatol 2010;27(4):406-408 Doi:10.1111/j.1525-1470.2010.01182.x
Parida PK, Surianarayanan G, Ganeshan S and Saxena SK. Pott's puffy tumor in pediatric age group: a retrospective study. Int J Pediatr Otorhinolaryngol 2012;76(9):1274-1277 Doi:10.1016/j.ijporl.2012.05.018
Haider HR, Mayatepek E, Schaper J and Vogel M. Pott's puffy tumor: a forgotten differential diagnosis of frontal swelling of the forehead. J Pediatr Surg 2012;47(10):1919-1921 Doi:10.1016/j.jpedsurg.2012.06.031
Acke F, Lemmerling M, Heylbroeck P, De Vos G and Verstraete K. Pott's puffy tumor: CT and MRI findings. Jbr-btr 2011;94(6):343-345 Doi:10.5334/jbr-btr.703
Patel A, Vuppula S, Hayward H, Lakhani A and Lighter J. A Case of Pott's Puffy Tumor Associated With Barosinusitis From Scuba Diving. Pediatr Emerg Care 2021;37(1):e51-e54 Doi:10.1097/pec.0000000000001657
Casado Pellejero J, Lorente Muñoz A, Elenwoke N and Cortés Franco S. Pott's puffy tumor by Actinomyces after minor head trauma. Neurocirugia (Astur : Engl Ed) 2019;30(4):198-201 Doi:10.1016/j.neucir.2018.06.002
Ur Rehman A, Muhammad MN and Moallam FA. Pott puffy tumor: a rare complication of sinusitis. Ann Saudi Med 2013;33(1):79-80 Doi:10.5144/0256-4947.2012.26.5.1116
Suwan PT, Mogal S and Chaudhary S. Pott's Puffy Tumor: An Uncommon Clinical Entity. Case Rep Pediatr 2012;2012(386104 Doi:10.1155/2012/386104
Joo MJ and Schapira KE. Pott's Puffy Tumor: A Potentially Deadly Complication of Sinusitis. Cureus 2019;11(12):e6351 Doi:10.7759/cureus.6351
Grewal HS, Dangaych NS and Esposito A. A tumor that is not a tumor but it sure can kill! Am J Case Rep 2012;13(133-136 Doi:10.12659/ajcr.883236
Jung J, Lee HC, Park IH and Lee HM. Endoscopic Endonasal Treatment of a Pott's Puffy Tumor. Clin Exp Otorhinolaryngol 2012;5(2):112-115 Doi:10.3342/ceo.2012.5.2.112
Lauria RA, Laffitte Fernandes F, Brito TP, Pereira PS and Chone CT. Extensive Frontoparietal Abscess: Complication of Frontal Sinusitis (Pott's Puffy Tumor). Case Rep Otolaryngol 2014;2014(632464 Doi:10.1155/2014/632464
Podolsky-Gondim GG, Santos MV, Carneiro VM, Pires Augusto L, Da Costa Pacheco Neto R and Santos De Oliveira R Md P. Neurosurgical Management of Pott's Puffy Tumor in an Obese Adolescent with Asthma: Case Report with a Brief Review of the Literature. Cureus 2018;10(6):e2836 Doi:10.7759/cureus.2836
Escudero Esteban R, Pérez Piñas I and Del Estad Cabello G. [Pott's Puffy tumor: a forgotten complication of sinusitis]. Radiologia 2011;53(2):175-178 Doi:10.1016/j.rx.2010.05.007
Hassan S, Rahmani B, Rastatter JC, Jaju AI and Kurup SP. Trauma-associated Pott's puffy tumor: an ophthalmologic perspective. Orbit 2020;39(1):38-40 Doi:10.1080/01676830.2019.1573909
Pansini A, Copelli C, Manfuso A, D'ecclesia A, Califano L and Cocchi R. Pott's Puffy Tumor and Intranasal Cocaine Abuse. J Craniofac Surg 2020;31(4):e418-e420 Doi:10.1097/scs.0000000000006423
Blumfield E and Misra M. Pott's puffy tumor, intracranial, and orbital complications as the initial presentation of sinusitis in healthy adolescents, a case series. Emerg Radiol 2011;18(3):203-210 Doi:10.1007/s10140-010-0934-3
Bannon PD and Mccormack RF. Pott's puffy tumor and epidural abscess arising from pansinusitis. J Emerg Med 2011;41(6):616-622 Doi:10.1016/j.jemermed.2008.04.050
Ciobanu AM, Roşca T, Vlădescu CT, Tihoan C, Popa MC, Boer MC and Cergan R. Frontal epidural empyema (Pott's puffy tumor) associated with Mycoplasma and depression. Rom J Morphol Embryol 2014;55(3 Suppl):1203-1207,
Zhang SY and Deng HH. [One case of Pott's puffy tumor: inverted papilloma of nasal sinus postoperative complications]. Lin Chung Er Bi Yan Hou Tou Jing Wai Ke Za Zhi 2018;32(4):304-305 Doi:10.13201/j.issn.1001-1781.2018.04.016
Palabiyik FB, Yazici Z, Cetin B, Celebi S and Hacimustafaoglu M. Pott Puffy Tumor in Children: A Rare Emergency Clinical Entity. J Craniofac Surg 2016;27(3):e313-316 Doi:10.1097/scs.0000000000002573
Şimşek H. Patient presenting with frontal subperiosteal abscess and headache: a case of Pott's puffy tumour. Br J Neurosurg 2019;33(3):275-277 Doi:10.1080/02688697.2017.1330944
Clarós P, Ahmed H and Clarós A. À propos d'un cas de tumeur de Pott post-traumatique. Annales françaises d'Oto-rhino-laryngologie et de Pathologie Cervico-faciale 2016;133(2):109-111 Doi:https://doi.org/10.1016/j.anorl.2015.08.018
Linton S, Pearman A, Joganathan V and Karagama Y. Orbital abscess as a complication of Pott's puffy tumour in an adolescent male. BMJ Case Rep 2019;12(7):Doi:10.1136/bcr-2019-229664
Sheth SP, Ilkanich P and Congeni B. Complicated Fusobacterium Sinusitis: A Case Report. Pediatr Infect Dis J 2018;37(9):e246-e248 Doi:10.1097/inf.0000000000001927
Shin JW, Choi IG, Jung SN, Kwon H, Shon WI and Moon SH. Pott puffy tumor appearing with a frontocutaneous fistula. J Craniofac Surg 2012;23(2):e158-160 Doi:10.1097/SCS.0b013e31824cdcc0
Koltsidopoulos P, Papageorgiou E and Skoulakis C. Pott's puffy tumor in children: A review of the literature. Laryngoscope 2020;130(1):225-231 Doi:10.1002/lary.27757
Akiyama K, Karaki M and Mori N. Evaluation of adult Pott's puffy tumor: our five cases and 27 literature cases. Laryngoscope 2012;122(11):2382-2388 Doi:10.1002/lary.23490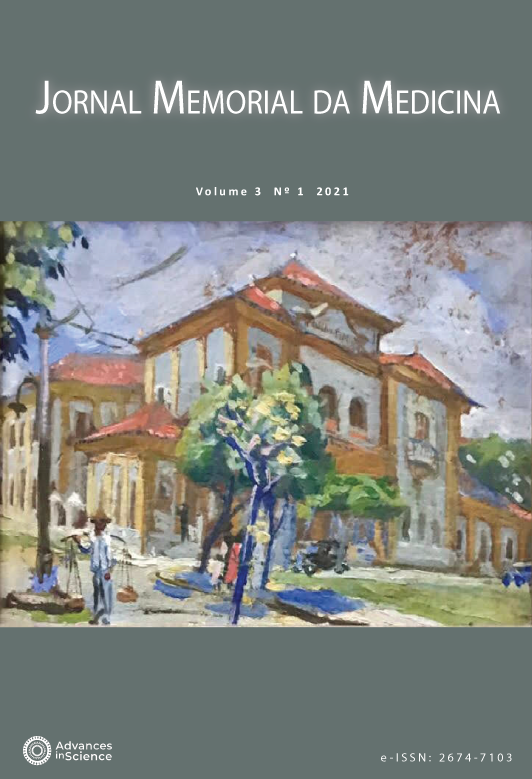 Como Citar
Bem Junior, L. S., Medeiros, M. N. C. ., Gadelha, L. de S. P. N., Neri, W. J. R., & Cavalcanti, M. A. G. . (2021). Pott's Puffy Tumor - Overview of case series. Jornal Memorial Da Medicina, 3(1), 10–17. https://doi.org/10.37085/jmmv3.n1.2021.pp.10-17
Licença
Os direitos autorais para artigos publicados no Jornal Memorial da Medicina são do autor, com direitos de primeira publicação para a revista. Em virtude de aparecerem nesta revista de acesso público, os artigos são de uso gratuito, com atribuições próprias, em aplicações educacionais e não comerciais. O Jornal Memorial da Medcina permitirá o uso dos trabalhos publicados para fins não comerciais, incluindo direito de enviar o trabalho para bases de dados de acesso público. Os artigos publicados são de total e exclusiva responsabilidade dos autores. Há encargos para submissão no processamento de artigos (Articles Processing Charge - APC).